Robin graduated from Murdoch University School of Veterinary and Life Sciences in 2000. He worked in two Veterinary Hospitals before starting Pet Clinic in December 2005. He firmly believes that one can possess the best medical knowledge and the best equipped clinic, but if there is no genuine care and compassion, then something is sorely lacking. In his spare time, he enjoys reading up on Natural History and dreaming about exploring unknown frontiers like Indiana Jones.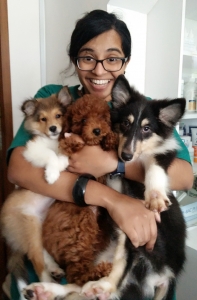 Pathma graduated with a Bachelor of Veterinary Science from Massey University, New Zealand in 2016. The newest addition to our team, this enthusiastic and chirpy young vet has started working at Pet Clinic since January 2017. After 5 years of living in lush green New Zealand, she is currently re-adjusting to city life, but is really loving it in Singapore so far. She is always ready to greet you with a big smile and is very passionate about the welfare of all creatures big and small. On her off days, she likes to go for long nature walks or curl up in bed with a good book.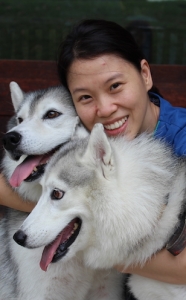 Michelle has always had a deep love for animals. She was blessed to have grown up surrounded by different species including crocodiles, bats and ferrets. She has a weakness for stray animals and constantly brings them home, much to the delight of her children. After graduating with a BA(NZ), she worked in the education sector for a few years before helping to start up Pet Clinic. Her forte lies in animal care and nurture. She is also the "Clinic Mum" who ensures that the staff are well taken care of and well fed.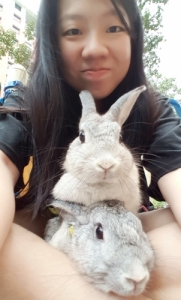 Charmaine graduated from Ngee Ann Polytechnic with a diploma in Nursing. From a young age, she had always wanted to work with animals as she feels that a part of her is with them. Having spent more that a year at Pet Clinic she considers this her second home. Charmaine enjoys the experiences and challenges that come with each new working day. She strongly believes in the saying by Walt Disney that "All our dreams can come true if we have the courage to pursue them."
PS: It comes as no surprise that she is also an avid Disney fan.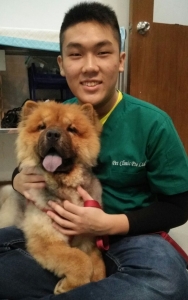 Aaron joined us in March 2017. He has shown much initiative and is a quick learner despite coming from a design background. In the short time that he has been with us, he has shown marked improvement in his nursing skills. Always wearing a smile on his face, he is ever ready to assist the doctors and his fellow colleagues regardless of the difficulty he may face. He is undaunted by new challenges and bravely launches into new/difficult tasks. In his free time he enjoys gaming and spending time with his 2 dogs and fishes.